It has been a whirwind.
New Years happened and I have to tell you I found myself in an absolute cooking/baking frenzy at home.  To be perfectly honest with you guys, there really wasn't much else to do.  I'm getting to that point in my life where my close friends from home are moving away save a small handful, so it's pretty much me, myself, my parents, and my dogs.  My older brother was only home for a week for the holidays (sadface), so I left to my own devices for a few weeks.
I know it doesn't look like it, but I pretty much didn't stop baking/cooking/living in the kitchen.
Why is there no evidence of this? God, MEL WHERE ARE THE POSTS?
I will tell you!
I didn't post anything because for a few straight weeks I don't think I left the kitchen except to sleep, and curling up on the floor of the kitchen so I was right there first thing in the morning to take over the oven was tempting, believe me.  But alas, I didn't leave the kitchen until I was forced out.  And by forced, I ran out of confectioners sugar for the first time in about five years.  So my final macaron attempt was thwarted and I nearly had a breakdown on the floor.  But there were several macaron attempts.  They don't all have picture but I have them well documented…in my brain…and I will share, I promise!
Where was I after the powdered sugar catastrophe?  Moving back to school.  I think I'm already depressed.  I have only been to the dining hall for dinner once since I came back a week and a half ago, preferring to hole up in my dorm room making lentil soup, english muffin pizza, and green smoothies (which are my new absolute favorite thing and I will write about them even though I've been learning that a bright green smoothie is really perturbing to some people).
I will go back and fill everybody in on the January culinary adventures, but today I have a review.
AWKWARD STORY: my OB/GYN recommended this diner to me.  Honestly, I don't care who knows that.  And after you eat the food there, I promise you won't either.
Breakfast in my dormitory leaves you with a plethora of options- grey hard boiled eggs, liquified scrambled eggs, limpy floppy I-don't-know-if-it's-really-cooked bacon, croissants that are crumbly like toast, "buttermilk" biscuits that are actually like rocks, and runny oatmeal.  The least offensive of these is the runny oatmeal, which is what I usually have everyday before work.  During my time as an undergraduate, I could count on one hand the number of times I ate breakfast, but I'm proud to say I actually eat it every morning now.  And I'm awake before lunchtime.  Sometimes even before 8am (proud, Mom?).  Truly miraculous.
But my favorite meal?  Brunch, hands down.  Brunch is sacred.  Brunch is ritualistic.  For an entire semester The Boy and I went to the same diner every single Sunday.  The waitresses knew who we were.  One of them even knew our orders.  Suffice it to say, liquified scrambled eggs and floppy bacon do not satisfy my need for a proper Sunday brunch.
Enter the Florida Avenue Grill.  Doc described it to me as a "great greasy spoon breakfast place."  I was sold before I looked up the reviews online, and then I was sold even more.  This past Sunday the trek was made.
It was really easy to get to from my school, a quick bus ride and even shorter stroll.  It was a little chilly, but there was a level of comfort in being able to smell the grease of this place from nearly a block away.  It could have been deep fried anything, but it smelled utterly divine.
The outside of the place didn't really look like much.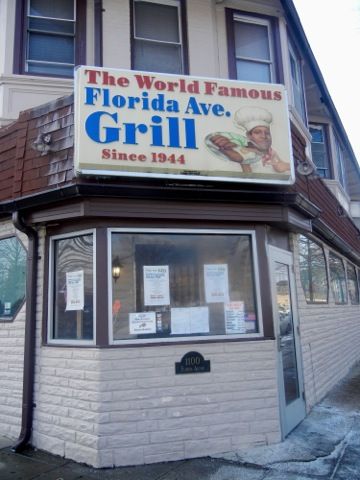 The inside wasn't very spacious, but at the same time it was cozy without being cramped.
Plus, Mr. T greeted us at the table!  Who wouldn't love that?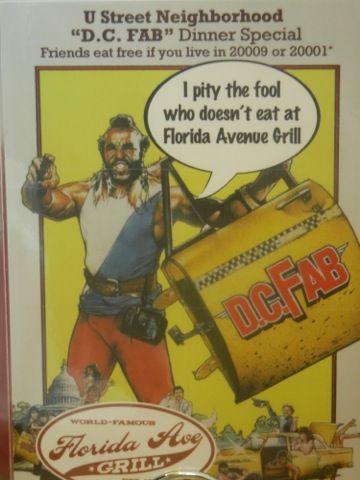 Even the coffee was great.  No cockroaches or anything (yes, that happened last semester.  No campus coffee since.)
This place specializes in soul food when it isn't time for breakfast, but they do serve breakfast all day.  You have a choice between toast and hot biscuits.  We went with the hot biscuits.  When they were brought to the table without any butter, I was puzzled.  Then I bit into one.
Oh my word, these biscuits pretty much are butter.  They don't need anything on them.  No butter, nothing.  Granted, they serve them with little jam packets if you want, but I was totally satisfied eating my way through two (okay, three) flaky, buttery, happiness biscuits.  Yes, happiness biscuits.  Soul food as in: food to satisfy Mel's cholesterol deprived soul.
The eggs and bacon don't look like much, but they cooked those eggs in the bacon grease.  And that bacon was criiiiiispy.  That 100% makes up for the less than stellar ovum presentation.  Yum, ovum.
To my D.C friends reading this, go to this place next time you are wondering where a cheap and tasty brunch spot is.  That being said, go in a small group.  They don't have a lot of booths for four people; it's mostly just counter seating and small booths for two.
The one negative critique I had about this place was that they are obviously so popular that they were not so subtlety trying to get us to leave.  The server kept walking by and staring at us, brought us the check way before we were ready, and a minute later put down a to-go box when we had 1) been eating for 10 minutes 2) hadn't asked for one.  We ignored to-go box guy and ate at our leisure.  Well, he ate at his leisure and I was done in a millisecond.  It was too good not to inhale at lightning speed.
Expect some throwback posts in the near future.  I took photos and tested recipes for about ten posts (I told you I was busy!).  Don't fret (though I doubt any of you are fretting)!  New Years Resolution: don't fall off the face of the planet.
<3